Navigation in the Archives
The Archives 
Delight is as the flight – —E. Dickinson, Fr317
Navigation in Dickinson's Birds is designed to be intuitive, with every user finding their own singular way among its offerings.
Poem Archive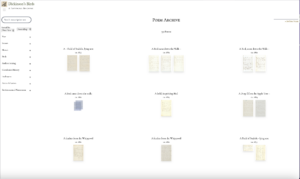 The default arrangement of the Poem Archive is alphabetical by first line. 
The chronology of Dickinson's bird poems is discoverable via three search options: poem MSS dated to a certain year are searchable by year; poem MSS assigned to a specific season are searchable by season [1]; and poem MSS assigned to a specific month are searchable by month. 
The dates assigned here, derive, unless otherwise noted, from R. W. Franklin's 1998 variorum The Poems of Emily Dickinson. Since the Poem Archive is an archive of Manuscripts rather than Works, moreover, the dates assigned are to each manuscript witness of a given work rather than to the work itself — i.e., the manuscript of a draft will bear the composition date, while the manuscript of a copy will bear the copying date, and the manuscript of a poem circulated to a recipient will bear the circulation date. 
Alternate search parameters allow users to arrange the poems via their material setting in or beyond Dickinson's private archive. Users may search for bound manuscripts (and, further, by individual fascicle); unbound manuscripts in three forms (those designated by R. W. Franklin as part of the "sets"; those on loose sheets/leaves; and those on ephemeral substrates), and for circulated manuscripts by recipient/s. Finally, users may search for manuscripts including enclosures of biota or ecologically-oriented printed materials. 
Transcriptions of the poem manuscripts are fully searchable via key word searches in the Search Bar. 
More detailed bibliographic information on the poem manuscripts, including notes on state, medium, paper type, etc., though not currently searchable, appears on individual Poem Pages. From the individual Poem Pages users may also access all manuscripts affiliated with a given work, even if they are not among the primary manuscripts featured in this project (i.e., manuscripts alluding to birds). 
Bird Archive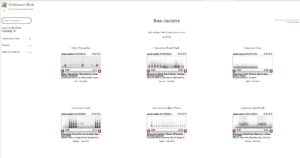 Bird files are searchable by species' common names, presence data in Amherst and the surrounding region for the 19th-, 20th, and 21st centuries; conservation status (when known) across these three centuries; and appearance on Dickinson's 'bird list' — i.e., the list we have constructed out of the named wild songbirds appearing in her poems.  
More detailed information on the birds, including notes on habitat, nest materials, and, in cases of birds named by Dickinson, local field notes, appears on individual bird pages. Links on these pages allow users access to those manuscripts in Dickinson's oeuvre linked with a specific bird species ("Affiliated Manuscripts") and to "Further Data" from the primary C19, C20, and C21 bird lists we consulted for this project.
Dickinson in the Meshwork
The Flickering be seen – —E. Dickinson, Fr495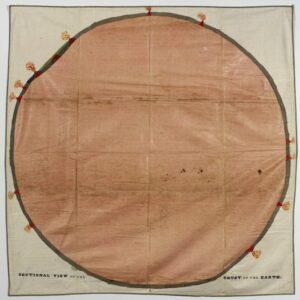 Environmental Phenomena in the Poem Manuscripts
Among other things, this experiment encourages attunement to the ways in which Dickinson's poems evoke the world(s) around her and to her complex, sometimes uncanny experience of emplacement. Our mining  of the poems reflects their relationship to scale, place, motion, time, and sound. We began by inventorying the poems' direct allusions to Universe/s, World/s, and Nature, also marking poems alluding to Supernatural realms (e.g., Heaven, Paradise, etc.). We reported poems' references to Solar Systems and Bodies,Landforms, and Flora and Fauna. We considered their climates, marking the meteorological and atmospheric processes they recorded.  Finally, a separate search category allows a closer, more intimate focus on the avian behaviors reported in the poems.[2]
Our provisional tagging of Universe/s, World/s, Nature/s and Supernature/s; Solar Systems and Bodies; Landforms; Flora and Fauna; and Meteorological and Atmospheric processes resulted in the identification of many smaller, more individual phenomena in the poems: stars, suns, planets, seas, vales, hills, clouds, gales, flowers, hours, etc. These phenomena appear here in small data clouds streaming  out beside the poem manuscripts. Like the variant word lists often found drifting below Dickinson's poems, some of which appear as "collapsing glosses" on the poems, these clouds refocus our attention on the manifold data of the world flowing in and out of the poems. They take the place traditionally reserved for transcriptions, which now open in another window when accessed by users. 

Unmarked
Explorations of agency and alterity are at the very core of all of Dickinson's work and also at the core of these selected works.  Everywhere in her lyric oeuvre, we find encounters between "strange strangers", the human and non-human, the organic and inorganic, sometimes colliding with one another, sometimes turning toward or becoming one another, sometimes just passing by but not touching each other. Although we do not attempt to mark the infinite traces of "strange strangers" in these works for fear of domesticating their movements and revolutions in form, we hope that our tagging will lead readers ever more deeply into the complex meshwork of Dickinson's world and into an encounter with the questions — about poetry, about ecology, about identity and otherness — that flicker within it. 

[1] Seasons in the Poem Archive are defined as follows: spring=March, April, May; summer=June, July, August; fall=September, October, November; winter=December, January, February.  Manuscripts dated by Franklin to the "second half" of a given year are marked as belonging to either "summer" or "fall", depending on internal and external evidence, while manuscripts dated by Franklin to the first half of a given year are marked as belonging to either "winter" or "spring", also depending on additional internal and external evidence.
[2] Jefferey Simons (Department of English Philology, University of Huelva) gifted his research materials for his essay "Dickinson's Lyric Ornithology" to this project. The exquisite notes on the avian behaviors described in Dickinson's poems are his distinctive contribution to this archive. His essays on Dickinson have appeared in European Journal of American Studies (2017), The Emily Dickinson Journal (2019), and Amerikastudien / American Studies (2020). Other essays on the poetry and prose of James Joyce have appeared in Joyce Studies Annual (2002, 2013, 2018), European Journal of English Studies (2007), Genetic Joyce Studies (2010), and James Joyce Quarterly (2014).