Meshworks: Sources and Resources
Primary Sources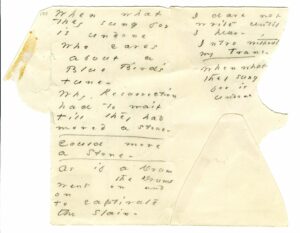 Manuscript Sources
The Emily Dickinson Archive (edickinson.org), an open-access resource gathering digital surrogates of many of the manuscripts of Dickinson's poems  from many archives is the primary source for manuscript images reproduced here.
Manuscripts images from the following Libraries are included here:
American Antiquarian Society

Amherst College Archives & Special Collections

Beinecke Library, Yale University

Boston Public Library

Dumbarton Oaks, Harvard University

 Forbes Library

Houghton Library, Harvard University

Jones Library

Library of Congress

Middlebury College Library

The Morgan Library & Museum

New York Public Library

Princeton University Library

The Robert P. Esty Library

The Rosenbach Library

Scripps College Library

Smith College Libraries

State Historical Society of Iowa

Vassar Special Collections
Scholarly Editions

Birding Guides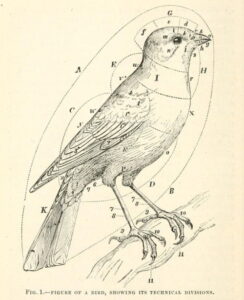 C19
H. L. Clark, The Birds of Amherst & Vicinity, including nearly the whole of Hampshire County. Amherst, MA: J. E. Williams, 1887.
Ebenezer Emmons, Birds of Massachusetts (1833), originally published in Dr. Edward Hitchcock's "Report on the Geology, Minerology, Botany and Zoology of Massachusetts", pp. 528-51.
J. A. Allen, "Catalogue of the Birds Found at Springfield, Mass., with Notes on their Migrations, Habits, & c., together with a list of those birds found in the State not yet observed at Springfield" (1864), originally published in the Proceedings of the Essex Institute at Salem, Vol. IV, No. 2, September 1864.
C20
C20 data on the birds' occurrence, arrival, and departure dates has been drawn from two sources:
C21
Bird Sound Files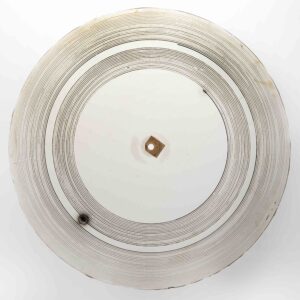 The website www.xeno-canto.org ("Xeno-canto"), created in 2005 by Bob Planque and William-Pier Vellinga, and administrated by the Netherlands-based Xeno-canto foundation (Stichting Xeno-canto voor natuurgeluiden), is an open-access site dedicated to sharing recordings of sounds of wild birds from all across the world and the primary source of the sound and sonogram files used in Dickinson's Birds. Xeno-canto is committed to education, conservation, and science, and their recordings are shared under various Creative Commons licenses that generally allow distribution provided recordists are credited and provided no commercial proceeds are sought.

Map Sources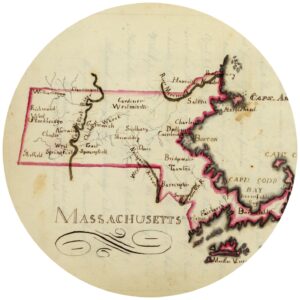 The nineteenth-century Massachusetts map at the heart of this archive was created by Frances A. Henshaw in April 1823. It appears in her "Book of Penmanship," a slender volume composed by Henshaw when she was a student at the Middlebury Female Academy and containing both her writing exercises on astronomical geography and her exquisitely hand-drawn and colored maps of nineteen of the then twenty-four United States http://www.davidrumsey.com/maps3127.html. "Massachusetts" is small is scale,  measuring only 16 cm (h) x 23 cm (w), and Henshaw's fusion of alphabetic and cartographic literacy clearly reflects the influence of Emma Willard, the educator and map-maker who led the Academy from 1807 to 1908. Today the map is part of the David Rumsey Historical Map Collection, which includes an exceptional rich collection of 19th c maps made by children.
Alonzo Gray and Charles B. Adams, Map of Amherst, 1833. Courtesy of the Jones Library, Amherst, Massachusetts.

H. F. Walling, Map of Amherst, 1856. Courtesy of the Jones Library, Amherst, Massachusetts.

Beer's Atlas, Amherst Village, 1873. Courtesy of the Jones Library, Amherst, Massachusetts.

Sources + Resources
Abram, David. 1996. The Spell of the Sensuous. New York: Vintage Books.
Ackerman, Jennifer. 2017. The Genius of Birds. New York: Penguin.
Fragments of Extinction. https://www.fragmentsofextinction.org/dusk-chorus-film/